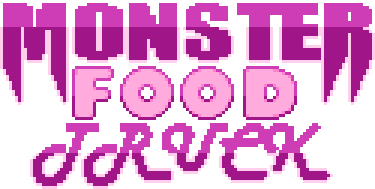 Monster Food Truck
A downloadable game for Windows
MONSTER FOOD TRUCK
A cooking puzzle game made by @terrorbuns & @supajackle for the #bubblegumjam
The monsters are here... and they're so hungry. Hungry... for... your delicious, magical cooking!!
Play as the witchchef owner of the wonderful Monster Food Truck and, with the help of your fridge-mimic, craft delicious food for your monster customers!
How To Play:
Button 1: Pick up/Place (Default: A on Controller, X on Keyboard)
Button 2: Put down pot (Default: X on Controller, C on Keyboard)
1) Move Flavor Blocks around the board and match 2 or more with your pot to get an Ingredient!
2) Look up at the menu for the day and make the Ingredients you need to make one of your delicious Dishes!
3) Gather all the right Ingredients and drop them onto the grill on the left side of the truck, and finally-
4) A finished Dish will shoot off the grill, just go grab it and serve it to your wonderful customers!
2+ Flavor Blocks stuck in the pot!
3 correct Ingredients on the grill!
1 delicious Dish for your monstery customers!
Try and get as much money as you can! The more Flavor Blocks you clear at once, the bigger your tip!
Have fun!!!
If you have any questions, concerns, or just wanna tell us what you thought, let us know on twitter!
@terrorbuns
@supajackle
THANKS FOR PLAYING! <3
All music is from http://incompetech.com/
Most Sound Effects are from https://freesound.org/
Install instructions
Download, unzip to desired location, and enjoy!